Culinary Weekenders
For our next chapter this year we're also inviting some of our international culinary friends.
Sustainable and ecological thinking remains important and this is reflected in the culinary programme for the coming season.
TENUTE LOACKER
SAT. 20 AUGUST 2022
La Chapelle proudly invites Anna Dow and Tenute Loacker from Italy for a special Culinary Wine Makers dinner and tasting on Saturday the 20th of August.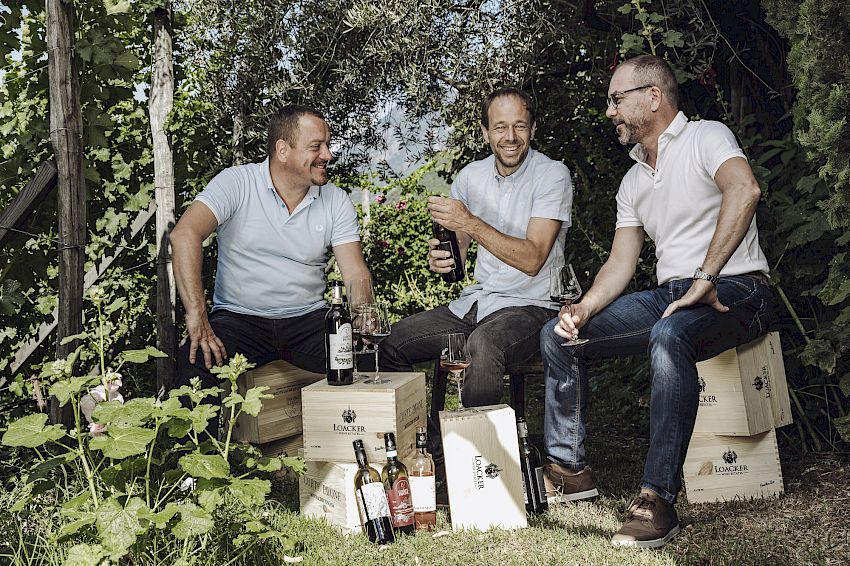 The grape does not fall too far from the vine.
Rainer built the wine estate in 1979. Since 1998, son Hayo has determined the fortunes of the wineries. Today, all 3 sons, Hayo, Franz Josef and Hannes, play a part in the LOACKER Wine Estates. They share their father's pioneering spirit, commitment, and rebel heart.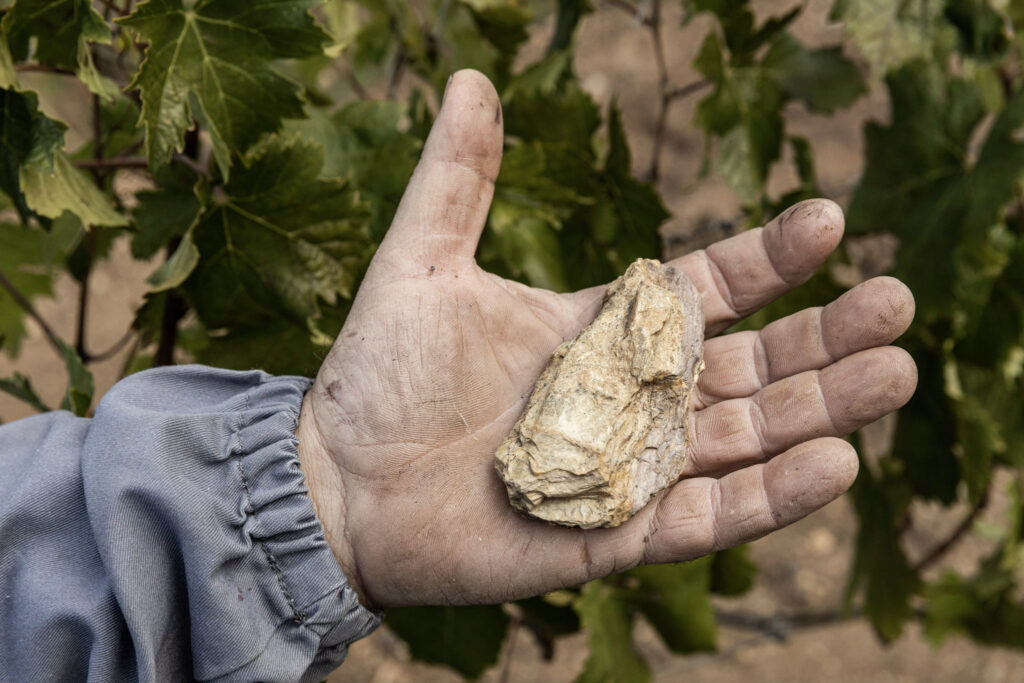 Organic and biodynamic
LOACKER wines have been grown sustainably for 40 years across all 3 estates. While this requires a demanding work process, it yields incredibly rewarding results for us and nature.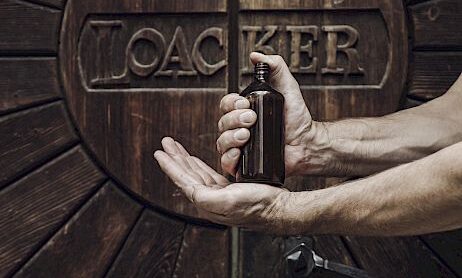 Homeopathy at the wine estate
Sure, go ahead and call us crazy. But all we want is to take care of our vines. We are convinced that by using homeopathy we can boost the biotope of the estate in a sustainable manner.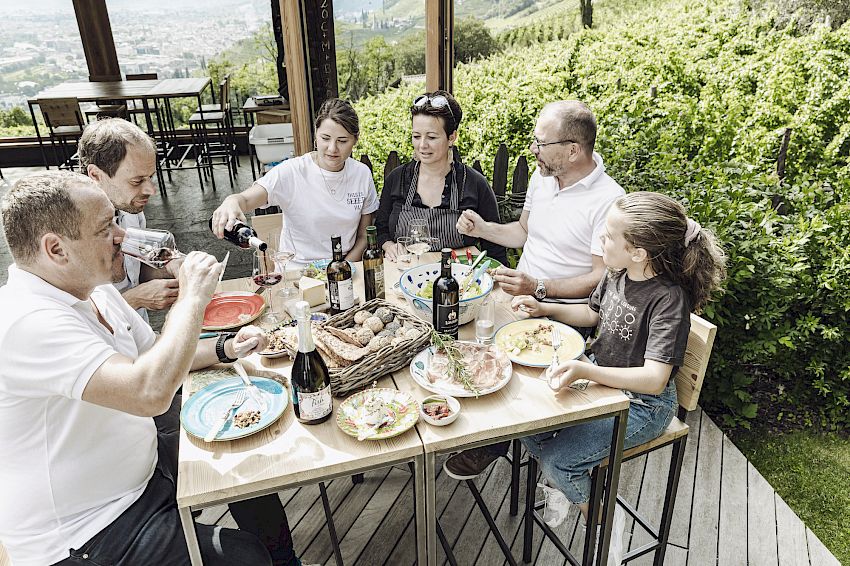 A toast to life!
As LOACKERS, we believe in enjoyment and delight – and it is our top priority. Our wines are the ideal companion for the nice moments in life.
Tenute Loacker will hold a tasting of their wines from 16h to 18h with an explanation of the domain and the wines.
At 19h there is a winemaker's dinner. For this there is a wine pairing with each dish.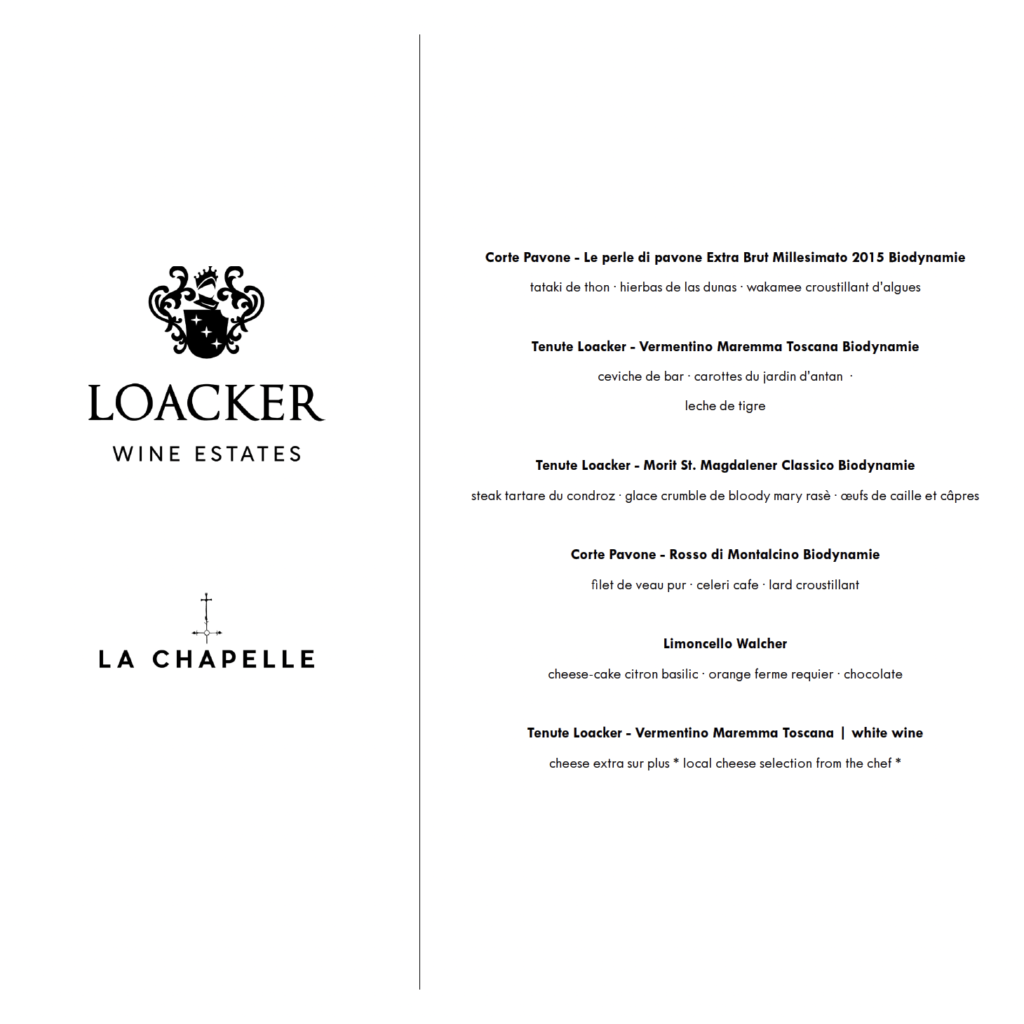 5 course dinner
– 89 –
Wine pairing 5-course dinner
– 48 – 
* Extra course "le fromage local" *
– 15 –
* Wine option "le fromage" *
– 7 –
OFYR x STOKE with Guy Weyts
22 + 23 and 24 July 2022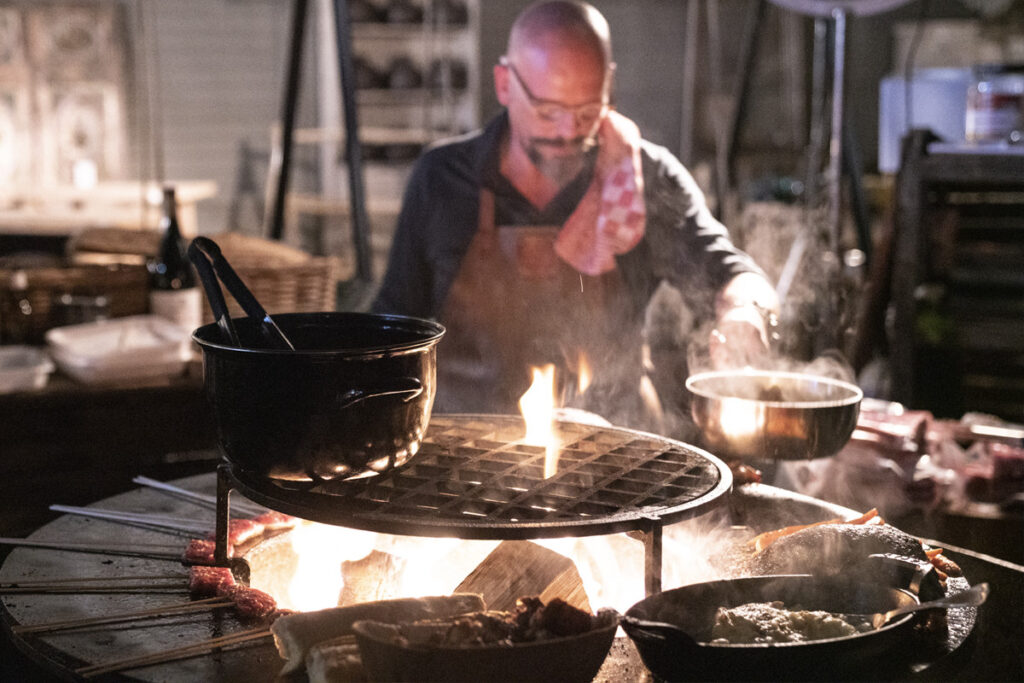 There is a collaboration with OFYR that also resulted in a collaboration with the marvelous Guy Weyts of Stoke Outdoor Cooking. Weyts is the author of the OFYR cookbook and a rock star when it comes to cooking with an OFYR. He was at the helm of his restaurant Pas-Vite for more than twenty years, cooked at festivals such as Tomorrowland, and for greats such as Tony Blair, Tommy Hilfiger and the entire Dutch royal family.
"The authentic wooded surroundings and working with local products were enough to trigger me to set up the kick-ass concept of Stoke in the idyllic La Chapelle," says Guy Weyts. "Cooking outside with the OFYR gets an extra dimension. Everything you need for a cosy get-together with family and friends is there."
STOKE with Guy Weyts will present an 'outdoor cooking experience menu' at La Chapelle on 22 & 23 July.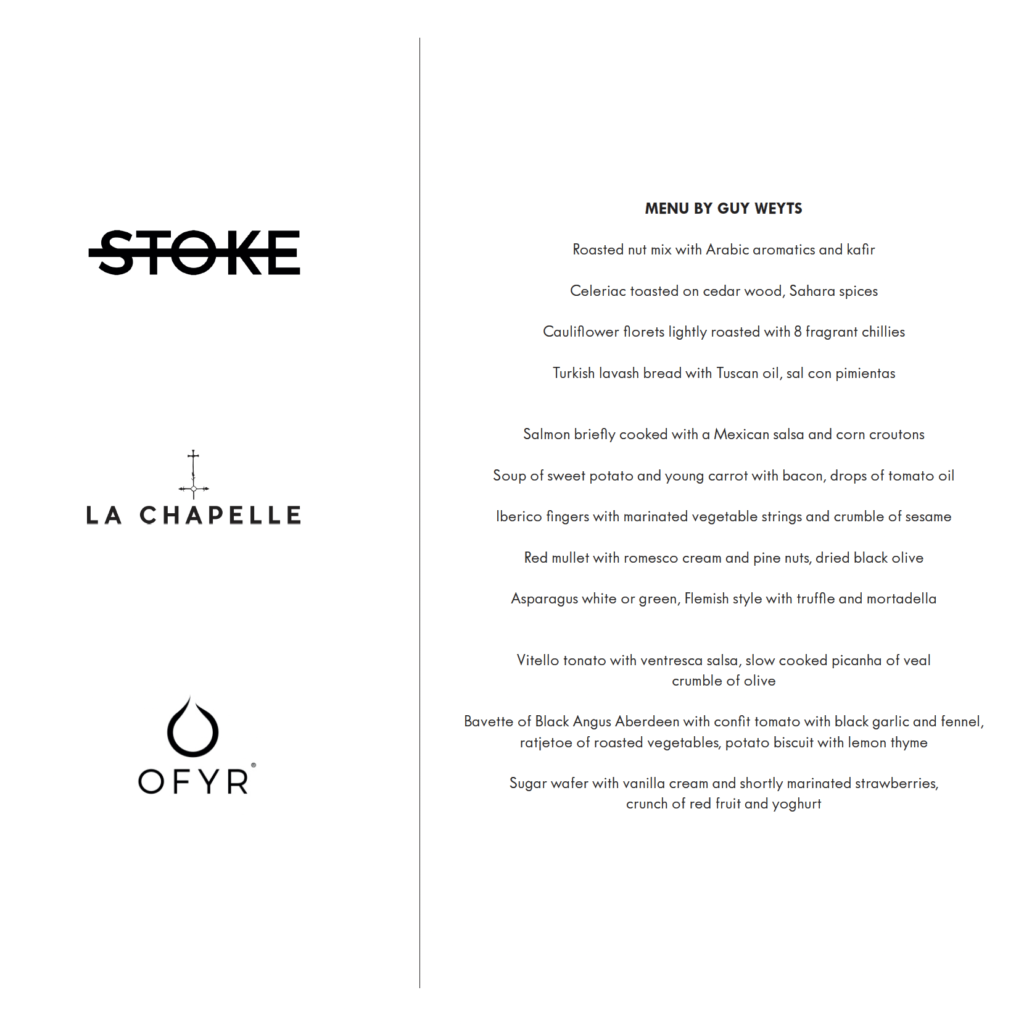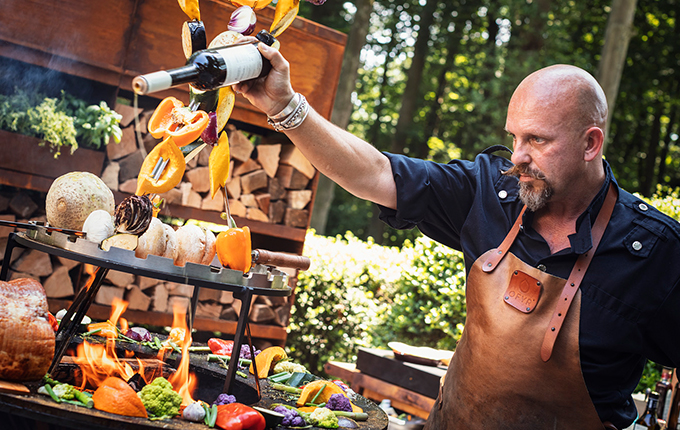 Osteria Alle Testiere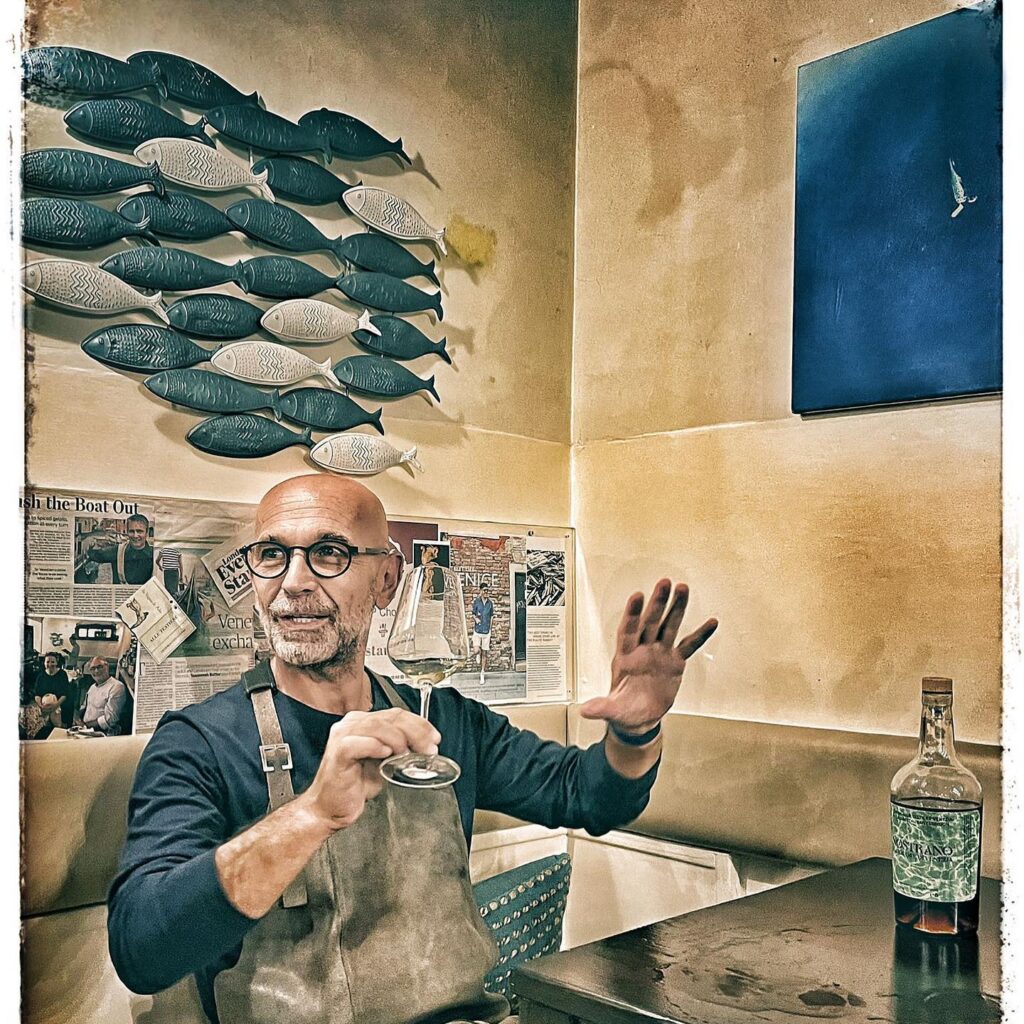 For foodies, Bruno Gavagnin and Luca di Vita of Osteria Alle Testiere are two well-known names. Alle Testiere is located in the heart of Venice between the Rialto and St Mark's Square. It is a tiny restaurant with 24 seats that serves local products and fresh fish from the Venice lagoon and herbs collected from the surrounding islands.
Alle Testiere has been listed in the Michelin Guide since 1997. It is considered the most renowned osteria in the world thanks to its creative take on classic Venetian cuisine and focus on local and fresh. Bruno and Luca have a quiet, almost shy passion for the product, its origin and its authenticity.
The restaurant is not only a magnet for celebrities, it is also enjoyed by gastronomes. With accolades such as 'the best seafood in Italy' or even 'in the world', they have been at the top of lists of all kinds for years. Alle Testiere is the favourite restaurant of culinary top chefs such as Russell Norman, Fred Sirieix, Nino Zoccali, Marcella Hazan and star chef Angela Hartnett. It is best to book a place at Alle Testiere well in advance.
Also thanks to Luca Di Vita, La Chapelle will feature a customised wine list, carefully compiled with exclusive wines from the vineyards of Sant'Erasmo, a small island in the heart of the Venetian Lagoon. Luca and Bruno will also be launching Nostramo, their own liqueur made from herbs and plants in and around the Lagoon, for the first time on Belgian soil.

Bruno and Luca from OSTERIA ALLE TESTIERE at La Chapelle

FRIDAY 15 JULY – DINNER 6 COURSE – 19:00
SATURDAY 16 JULY- DINNER 6 COURSE – 19:00
SUNDAY 17 JULY- NOSTRANO TASTING LUNCH – 13:00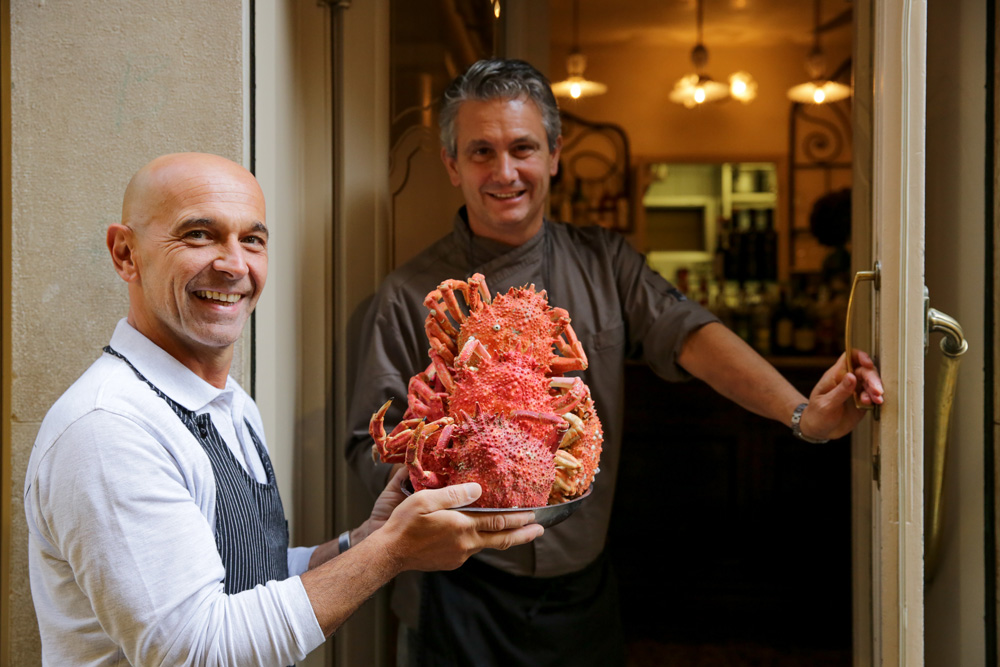 Zouterover
An outdoor concept like La Chapelle cries out for open fire. Kevin Kegelaars and Nick Van Hoof have already conquered the whole of Belgium with open-fire kitchen Zouterover. They will do the same this year with the guests in the castle. In 2018, the two won the well-known television programme Grillmasters.
Kevin and Nick are two fire chefs who bring honest and pure dishes, straight from the fire, and put the philosophy of zero waste into practice. They focus on the shortest chain, bring the food from the farm directly to the plate, and source the ingredients as often as possible from nature and the forests around La Chapelle. The word experience is central.
"We've always wanted to sprinkle salt on a Chapelle", Kevin and Nick laugh. "The location in the middle of nature naturally appeals to the imagination. Zouterover likes to cook in and with nature. Cooking at Chateau de la Chapelle will provide a 'total experience'. Our fires and nature blend perfectly."
Date to be announced soon.